Book a consultation with Rowensu Clinic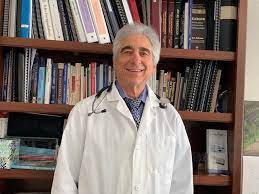 patient
SI joint dysfunction causes distant pain
About Robert Rowen
ROBERT ROWEN, M.D. graduated Phi Beta Kappa with a B.A. Degree from John Hopkins University, Baltimore, Maryland and received his Medical Degree from the University of California, San Francisco. He did his internship at Highland General Hospital, Oakland, California, and his Family Practice Residency at the University of Arizona, Tucson.
In 1979 he went to Anchorage, Alaska and was on Staff as a Family Physician and Emergency Room Physician at the Alaska Native Medical Center.
In 1983 he went into private practice at his Omni Medical Center with a motto on his letterhead, "Biologic Alternatives To Drugs and Surgery." For the past 13 years, he has been practicing Biologic Medicine with a heavy emphasis on oxidative modalities. He has worked extensively with chronic fatigue patients and non-AIDS immune dysfunction. Therapies include virtually the whole spectrum of alternative healing such as nutrition, homeopathics, herbs, glandular, life-style, chelation therapy and oxidative therapies.
Additionally, he has worked with many cancer patients and has a number of survivors including those with lung, kidney and bladder cancers.
Dr. Rowen is also known as the father of medical freedom, by virtually single-handedly leading and engineering the introduction and passage of the nation's first statutory protection for Alternative Medicine through the Alaska State Legislature in 1990. Two years later, Alaska Governor Hickel appointed him to a 4 year term on the Alaska State Medical Board. He was the first avowed Alternative Medicine doctor to sit on a state disciplinary board.
(Ed's Note: Alaska was the first state to legalize Laetrile!)
Dr. Rowen has been speaking for the past 2 years to hundreds of physicians from around the world, restimulating interest in a therapy a half century old – ultraviolet blood irradiation, commonly known as photo-oxidation. This nearly forgotten treatment works by stimulating the body's own immune responses.
Reprinted from the 24th Annual Cancer Convention, Pasadena Hilton, August 31, September 1 & 2, 1996. 17 Years Ago!